Mobile App to
foster collaboration
About Broshuis
The family feeling has been there since 1885 and is still present, thanks to the fourth generation. Pieter-Bas Broshuis is therefore the proud owner of the family business and explains the success primarily with the following principle: "Quality always pays off." All trailers look alike at first, but a Broshuis really stands out after years of use! 
Our passion for special and container transport has grown into building beautiful and strong trailers that last. Every day, more than 500 professionals work on your semi-trailer on our 100.000 m2 site. Our focus on safety and quality has led us to become a leading international manufacturer of trailers. With deliveries all over the world and in a wide variety of industries, we deliver more than 1.000 trailers per year and have helped many satisfied customers with their transport challenges. 
Challenge
Broshuis employees are spread across various buildings on a vast terrain in Kampen. Connecting and informing these different people and departments posed a significant challenge for Broshuis. Traditional communication methods like TV screens and whiteboards didn't yield the desired results. As a result, Broshuis approached Recreate to explore options for leveraging employees' own devices to share information and foster collaboration between departments 
Sharing news, knowledge and successes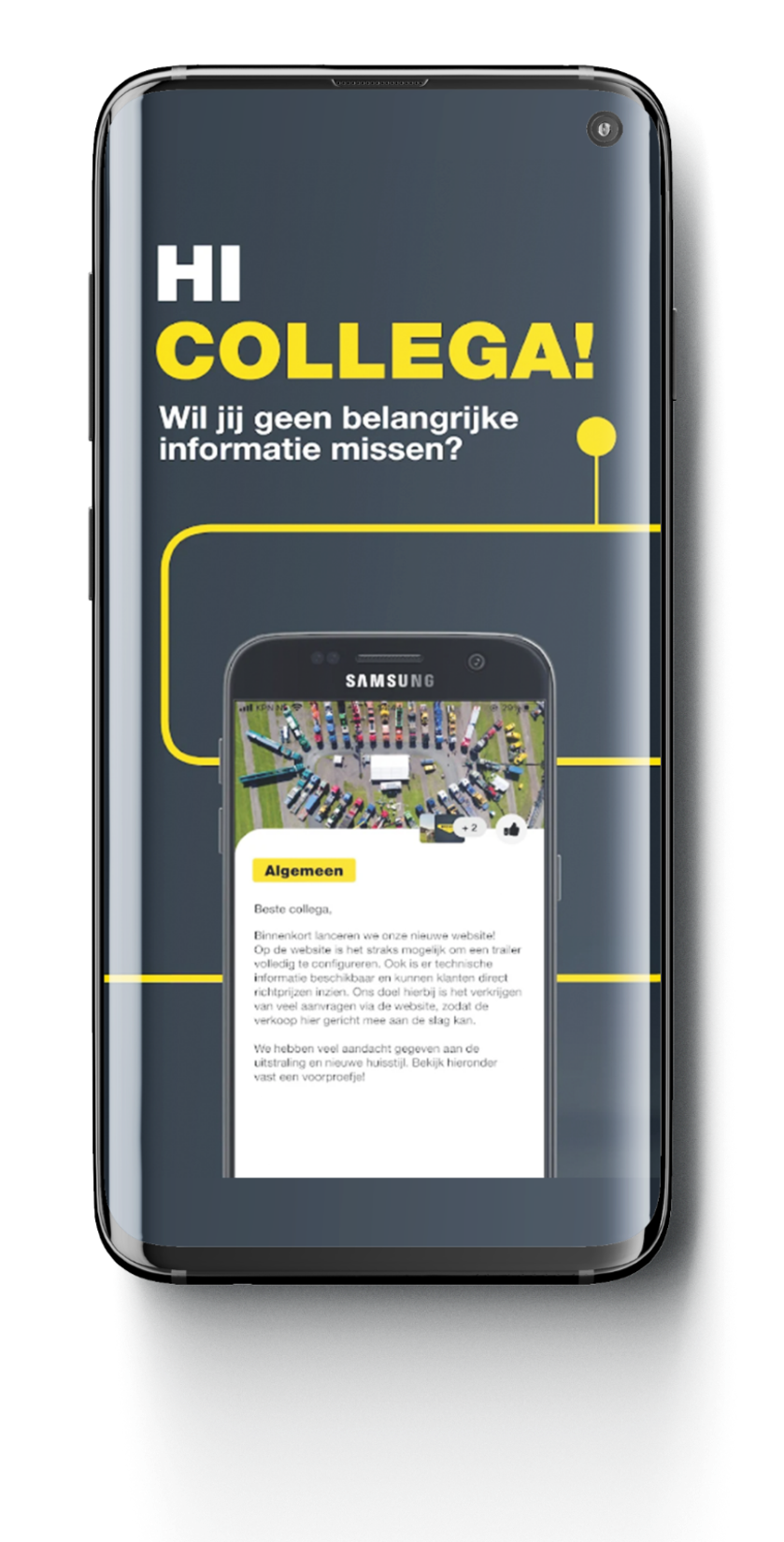 Recreate created the BroshuisTalk App! The main purpose of the app is to improve the internal communication between the different departments of Broshuis. In this app, Broshuis share news, knowledge, and internal successes within the organization. Through this platform, Broshuis increase transparency and aim to make everyone part of achieving the company goals. The app is available to every employee, allowing everyone to access all desired information. An employee can choose which departments to follow. Save your favorite posts to read them again later or respond directly under a message! 
Key functionality of the app:  
All internal updates are shared at one location.

Employees can respond to messages by leaving a comment or liking them.

The app is available in two languages (Dutch and English).

With a convenient search function, employees can always look up the latest updates.

Important links are stored in the app, providing easy access to them at all times.

Push notifications keeps employees informed about new messages.

By saving posts as favorites, employees can easily retrieve information at a later time.