Van Nieuwpoort Prefab Beton
CONSTRUCTION & ENGINEERING
Van Nieuwpoort Prefab Beton
CONSTRUCTION & ENGINEERING
Visualize 3D models of prefab concrete floor panels in the mold
About Van Nieuwpoort Prefab Beton
Van Nieuwpoort consists of a chain of companies that supplies building materials and products. From sand and gravel to concrete floors and EPS (Styrofoam) for insulation and foundations. We extract raw materials and transport them by ships and trucks to construction sites. But also to our own companies that use the raw materials to make concrete mixtures or concrete floors. We use prefabricated concrete floors in small and large-scale new construction projects (housing, utility and infrastructure projects). Sustainable recycled EPS can also be processed on the floors or used for insulation or foundations.
Van Nieuwpoort Prefab Beton produces prefab floors for over 100 years and invests continuously in new building technologies and efficient production methods to always offer you the best. We have built a very modern and sustainable carousel factory so that our production capacity of the wide slab and ribbed cassette floors is optimal. This allows you to save costs and design the system floor tailored to your project.
Van Nieuwpoort Prefab Beton has a rich history. From Beton uit Son to Betonson Prefab. Over the years our company has developed into the total supplier of system floors that we are today. We have been able to do this as a subsidiary of the Van Nieuwpoort Group. With a rich history, we continue to develop and innovate, on the foundation laid in 1905.
Challenge
Currently a lot of manual work is done when prefab concrete floor panels are being made. Every panel can be different and before the concrete is poured a lot of prepping has been done by the staff. The preparation process involved several steps: placement of cut-outs/castings, place of magnetic shutters, place of electrical wires/electric boxes and the placement of steel and lattice girders. All the steps are currently done manually and there is a big room for errors. Van Nieuwpoort had already investigated other technologies to help them digitize the process, but solutions like lasers or projectors are not sufficient. Van Nieuwpoort challenged Recreate to see if this problem could be solved using Mixed Reality.  
Recreate created a HoloLens 2 application for Van Nieuwpoort to visualize 3D models of prefab concrete floor panels in the mold. Recreate solved two imported issues; using three QR-codes the Hololens can place the 3D model accurately in the mold and Recreate optimized the Revit 3D model (containing all the information) to use this on the HoloLens. The workflow with the HoloLens 2 will be: start the app, scan the QR-codes for the alignment, select the 3D model and the HoloLens 2 will visualize (with animations) the actions the operators need to do. The biggest pros for the HoloLens 2 are the hands-free operation and the possibility to see depth, this is critical because a concrete floor can be built up out of multiple layers.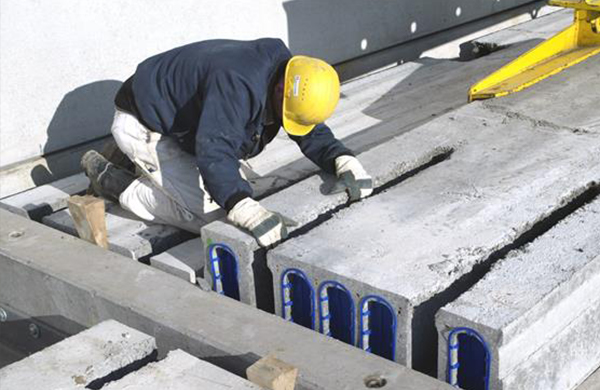 A summary of the benefits
No 1 reason: Reduction of failure cost
Dimensioning can be done perfectly by laying out magnets for the recesses so the pre-fab floor can be made properly.
Another benefit: You no longer need a tape measure and anyone could do it
Quality control
Before the floor is filled with concrete another picture of where everything is and an overlay of the 3D model are available for validation to check that everything is attached in the right place
Tracabililty in the whole process