NEW AR APP FOR THE
HEINEKEN EXPERIENCE
NEW AR APP FOR THE
HEINEKEN EXPERIENCE
How to add some extra's to the grand
reopening of the Heineken Experience?
About Heineken
See it, Touch it, Taste it!
Let us tell you the story of how a small, Dutch brewery became the world's most premium brand of beer. The world of Heineken is one best experienced through all the senses; we'll let you feel the hops and smell the authentic scents of the brewery. It's all there. We've been around for over 150 years, so you can imagine we have seen a thing or two. Take a walk through the halls where it all happened, let us serve you our heritage and see the evolution to the world-class brand we are today.
Challenge
Recreate successfully convinced Heineken about the potential of Augmented Reality for the Heineken Experience following an ideation session at the Microsoft Technology Center in Amsterdam. The outcome of this collaboration was the development of an AR app for the grand opening of the Heineken Experience after an extensive reconstruction program, aimed at showcasing the building's heritage.
In just 7 weeks, Recreate created an app that highlights the building's history for beer enthusiasts. The Heineken Experience building was previously a part of the Heineken brewery in Amsterdam, and the grand hall, now used as an entrance, was once a stable.
New Heineken Experience AR App in just 7 weeks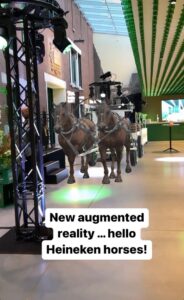 The use of Augmented Reality enabled Heineken to share the building's heritage with guests in an interactive manner. The AR app is guiding visitors to various hotspots, each telling its own story. Recreate added multiple immersive scenarios, working in collaboration with the Heineken Heritage team, to display never-before-seen content, including a horse and carriage moving around the grand hall, a beer bottle catching game, historical images and videos of the building's past, and a timelapse showcasing the building's evolution.