Connecting top talents worldwide
in the same immersive space
About Arthur D. Little
Arthur D. Little is an international management consulting firm. ADL was founded in 1886 and was the first management consulting firm in the world. ADL pioneered & played key roles in the development of business strategy, operations research, the word processor, the first synthetic penicillin, LexisNexis, SABRE, and NASDAQ. Today the company is a multinational management consulting firm operating as a partnership. 
 Organizations are increasingly dealing with opposing forces which test their resolve. Performance today or innovation for tomorrow? Competition or collaboration? Investment in people or technology? Only those who can anticipate change, innovate and adapt will thrive and move ahead. 
 At Arthur D. Little we link people, technology and strategy to help clients balance these opposing forces, overcome today's biggest challenges and seize tomorrow's most promising opportunities. 
Challenge
Arthur D. Little wants to leverage and use the Metaverse to improve their business. Arthur D. Little consults their customer about this, but also want to make use of the full-blown capabilities themselves. Arthur D. Little has identified many areas where they see potential benefits: 
Improved Communication and Collaboration: Increased immersion and presence within the workspace will foster better communication and collaboration, ultimately driving higher levels of productivity.

 

Elevated Client Satisfaction: Offering clients next-gen experiences through an exclusive immersive space will lead to better client engagements, heightened satisfaction, and potentially increased revenue per customer.

 

Global Talent Collaboration: Building Engagement Teams with the capability to connect top talents worldwide in the same immersive space will foster collaboration, enhancing the consulting firm's overall efficiency and productivity.

 

Flexibility and Efficiency: Embracing greater flexibility and scalability, including reducing the necessity for physical travel and in-person meetings, will streamline consultants' tasks, making them more efficient and effective.

 

Cost Savings and Investment Opportunities: By reducing expenses associated with physical travel, facilities, and office space, both ADL and its clients will enjoy cost savings that can be reinvested back into the firm or passed on to clients, promoting overall growth and success.

 
Meet, collaborate and discuss in a virtual office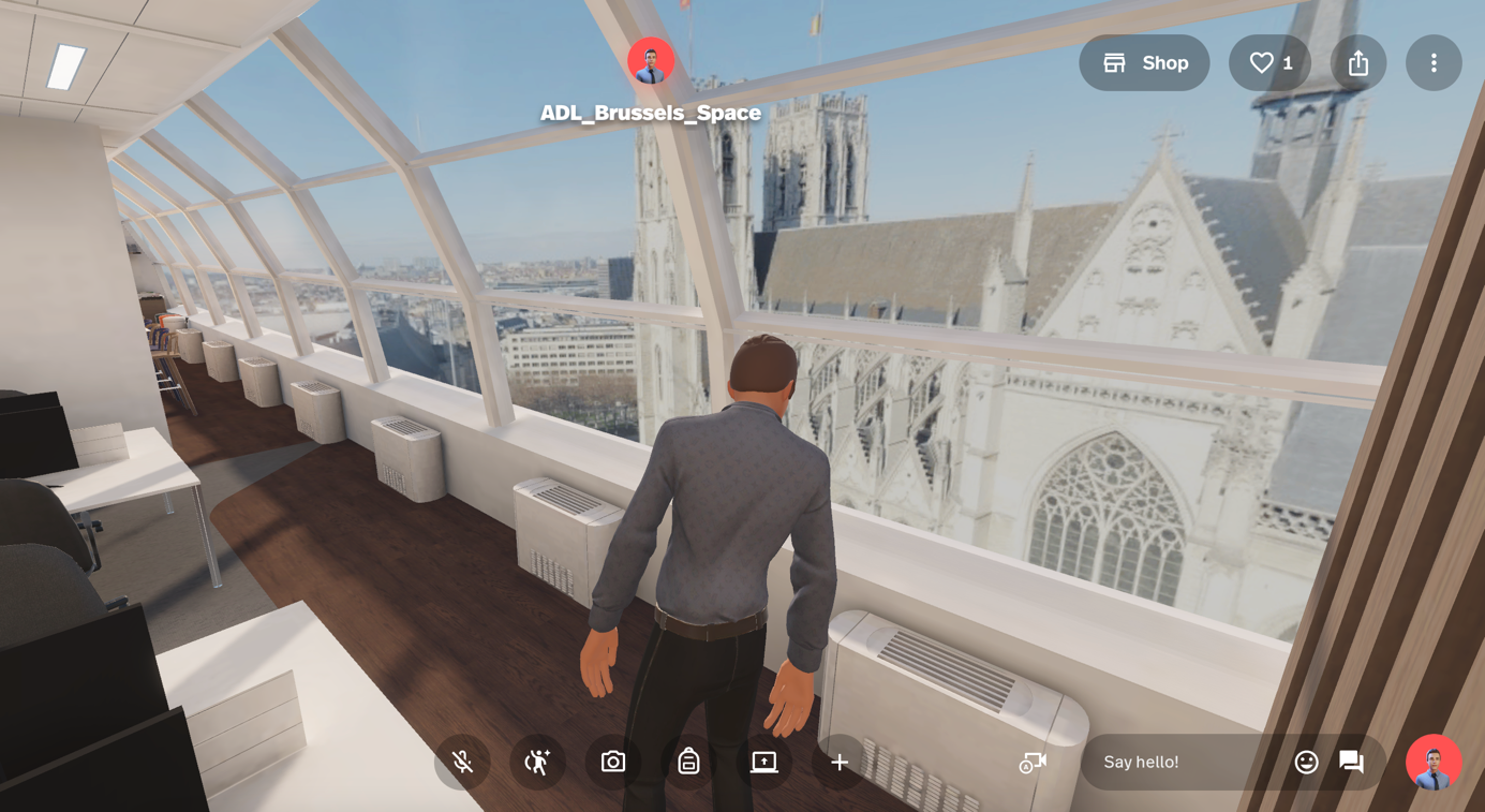 Recreate utilized the Spatial Platform to create an immersive office experience for Arthur D. Little, specifically replicating their Brussels office in a stunning 3D environment. By utilizing the construction drawings, Recreate ensured that the virtual office closely resembled the real-life workspace. Through the Spatial platform, users can seamlessly access the 3D office from various devices such as VR headsets, smartphones, and laptops, providing a consistent experience for employees and customers alike, whether online or offline. 
This 3D office space offers Arthur D. Little the remarkable ability to facilitate collaboration and teamwork without the constraints of physical proximity. With the familiarity of an existing office space, employees and clients can easily adapt to the immersive world and fully leverage its potential. Being able to connect and work together in a shared virtual environment creates an unparalleled level of engagement and interaction. 
Now, regardless of their physical location, employees and clients can join meetings, workshops, and discussions in this virtual office, fostering a sense of unity and a seamless transition between offline and online experiences. Recreate's innovative use of the Spatial Platform has opened up new possibilities for Arthur D. Little, transforming the way they collaborate and conduct business in the digital age.